The most recent product release of 2012 Panini National Treasures Baseball has yielded 10 different cards with Hank Greenberg and his often used bat displayed on it. I have bought one card which should be arriving on Monday (3/11) so I will put that up when the time comes. I'm not into the different color variations of a card (although I am guilty with 2007 Premier baseball), so I will try to acquire as many as I can.
Except this went up for auction the other day.

That shit ain't fair. A B/O (best offer) was hit for under $1,299. only numbered to 5. I have a realistic chance at 8 of the other cards that Greenberg is featured on, but this one, and the bat knob card that is said to exist are way too far out of my price range.
####
On Friday I received a card that has long been on my want-list.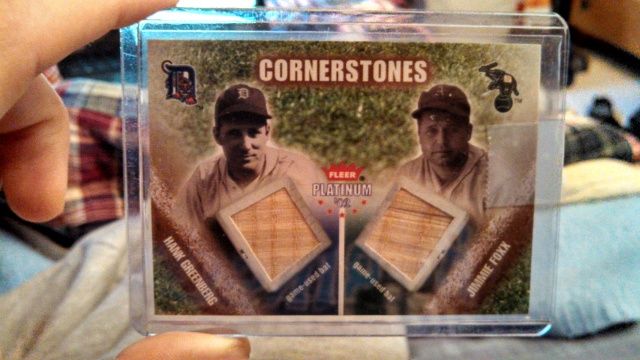 It's numbered to only 25, from 2002 Fleer Platinum and it cost me far less than what I've seen them go for in the past at $59. I also didn't have much competition in terms of other people bidding on this one.
I guess patience really is a virtue. According to the 2011 Standard Catalog of Baseball Cards these cards are not priced due to scarcity. And I landed mine for a healthy $59. Needless to say I am incredibly pleased with this buy.
In fact, there is a similar card that is on eBay right now for a BIN (Buy It Now) of $180.
2002 Fleer Platinum Cornerstones Hank Greenberg Jimmie Foxx Dual Bat 25/25
This ranks as my second card that features both Jimmie Foxx and Hank Greenberg, the first being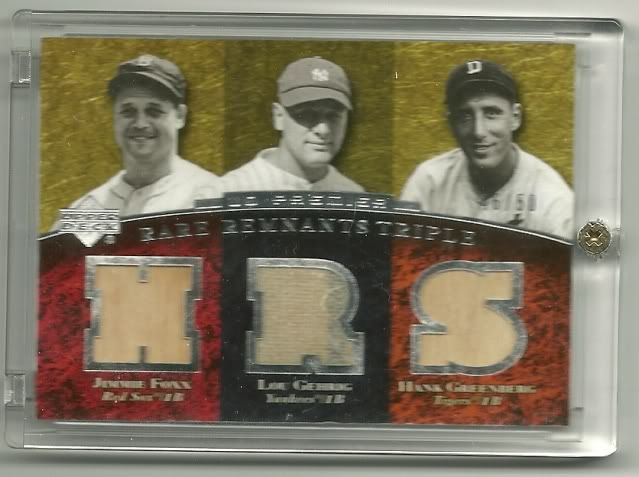 Remember to check back on Monday/Tuesday when I reveal which bat card I got from 2012 National Treasure.
Until then.