It's been a while since I have updated the blog, been busy at work!
I wanted to share with you all a steal of a steal that I got last month off of eBay. I won the above card for
$0.99, PLUS shipping.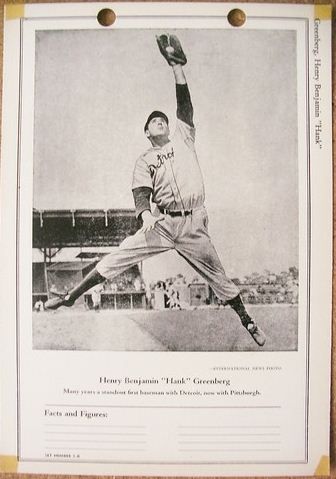 This is a 1946-49 Sports Exchange All Stars variation. I love this photo, and love this card. I also have this card with the biographical information not filled out. Seeing the biographical information on the card is amusing.
The information includes Hank's place of birth (New York, NY) height (6'4'') weight (215) nationality (Jewish) (lol) service (US Army) bats (right) throws (right) eye color (brown) hair color (brown) and who he is married to (Caral Gimbel).
The simple fact that they would include who he is married to is bizarre to say the least, and Sports Exchange shows their cultural ignorance by including Hank's nationality being Jewish. He was born in Greenwich Village, NY, not Tel Aviv, Israel.
Oh well. It's the 40's.