With my second pickup from 2012 Panini National Treasures, comes this card: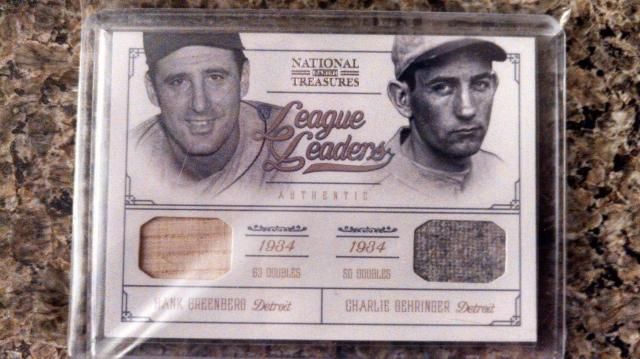 This card is numbered to only 25, and features Detroit's two most feared hitters in the 30's. This card highlights both Greenberg and Gehringer leading the American League in 1934 with 63 doubles and 50 doubles, respectively.
This card cost me $50, a price I am pretty happy with. It's pretty much the only premium card from the set I would be able to afford at a decent price, at least for now. Many of the cards have superstars attached to some incredible piece of memorabilia, be it a jersey, patch or even glove in
this triple including Jimmie Foxx and Mel Ott.
Who knows, if that stays reasonable I might snag that one as well, I don't own a glove card outside of this cool 2003 Joe Borchard card that isn't on eBay. Too lazy to scan it.